A Short Biography of Bishop B. C. Butler
by Dom Aidan Bellenger OSB
BUTLER, Basil Edward ('Christopher') (1902—1986), monk and theologian, was born in Reading 7 May 1902, the second of four sons and third of six children of William Edward Butler, wine merchant, and his wife, Bertha Alice Bowman, a schoolteacher originally from Suffolk. His intellectual gifts revealed themselves early and he proceeded from Reading School to St John's College, Oxford, on a scholarship. At Oxford he received the Craven scholarship and Gaisford Greek prose prize and was proxime accessit for the Hertford scholarship, as well as taking first classes in classical honour moderations (1922), literae humaniores (1924), and theology (1925).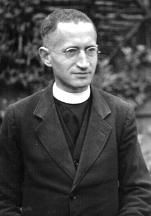 Butler in
the 1920s
In 1925 he began his life as a clerical don with a tutorship at Keble College, and the following year was ordained an Anglican deacon. His High Church upbringing came to maturity at university, but he was becoming increasingly convinced by Catholicism. He taught classics at Brighton College in 1927-8 and (after his reception into the Roman communion in 1928) at Downside School, Somerset, in 1928-9. Downside was to be his home until 1966. He entered the Benedictine community there in 1929, assuming the religious name Christopher, and was ordained priest in 1933. He was head master of Downside from January 1940 until his election as seventh abbot of Downside on 12 September 1946. He was re-elected in 1954 and 1962, remaining abbot until 1966, and he presided over the extensive building programme which followed the great fire at Downside in 1955. In August 1961 he was elected president of the English Benedictine congregation, a post he held until 1966.
It was in this capacity that he attended all four sessions of the second Vatican Council from 1962 to 1965, during which he emerged as perhaps the leading English-speaking participant. His fluency in Latin, and his wide theological learning, neither shared by many of the anglophones at the Council, gave him great authority. He was also assisted by his independence from local episcopal concerns. He was present as a major religious superior, not as a bishop. He was a member of the commission for doctrine and contributed to the chapter on the Virgin Mary, which was included (principally, it is said, at his instigation) in the decree on the church, Lumen Gentium, rather than appearing as a separate document. He also interested himself in the discussions on war and peace, with particular reference to nuclear deterrence. If Cardinal J. H. *Newman was 'the invisible father' of the second Vatican Council, then no one was better suited to be his spokesman than Christopher Butler. His Sarum lectures at Oxford in 1966 (published in 1967) presented his thoughts on The Theology of Vatican II and he was made an honorary fellow of St John's, the first Catholic priest to be so honoured by an Oxford college since Newman.
The Vatican Council made him a public figure and in 1966 he left Downside to go to Westminster as auxiliary bishop to Cardinal J. C. *Heenan. He was consecrated with the title of bishop of Nova Barbara in Westminster Cathedral on 21 December 1966. As auxiliary he became the first area bishop of Hertfordshire, last resident president of St Edmund's College, Ware, and vicar capitular of the archdiocese in the interregnum between Cardinals Heenan and Basil Hume. He became an elder statesman among the English hierarchy and an official Roman Catholic representative on many ecumenical bodies, including the Anglican/Roman Catholic International Commission. He was co-chairman of 'English ARC' from 1970 to 1981, and was twice honoured with the cross of St Augustine by the archbishop of Canterbury. In February 1980 he was appointed an assistant to the pontifical throne by Pope John Paul II.
The breadth of his activities and his popularity as a radio personality, especially on the Any Questions? programme in the 1960s, conceal from view the fact that his was chiefly an intellectual genius. In his books—which ranged in subject from scripture (he consistently supported the priority of St Matthew's gospel, as he demonstrated in The Originality of St Matthew, 1951) to spirituality via theology, ecumenism, and autobiography—and in the many hundreds of reviews and articles which he wrote, he revealed a wide sympathy. He owed most to the scriptures and the fathers but had a great attachment to the spiritual teaching of the French Jesuit master of contemplative prayer, Jean-Pierre de Caussade (1675—1751), and also, in later years, to the Canadian Jesuit, Bernard Lonergan (1904—1984). Like the abbot in the rule of St Benedict, he made full use of things 'nova et vetera' and always retained much of that balance of the middle way, which distinguishes classical Anglicanism and to some extent English Catholicism. From 1972 he was a member of the editorial board of the New English Bible.
He was a man of deep spirituality, who put prayer at the centre of a timetable which always remained fixed and unvaried throughout his adult life. He loved, as a Benedictine, the stability of the regular life, and all he wrote and said reflected his deep life of prayer. As a junior monk he had been a disciple of Dom David *Knowles and had sought a deeper asceticism. He was of slightly more than average height and as a young man he had an ascetic appearance. Advancing years made him more corpulent. His hair was always close-cropped, which gave great prominence to his head, very suitable given his intellectual gifts. He lived a simple life, although he enjoyed smoking a pipe, and was an expert chess player as well as a devotee of detective novels. He was a reserved man but became easier and more relaxed as a bishop. He remained a true Benedictine, one whose central vocation is seeking God. He died 20 September 1986, at St John and St Elizabeth's Hospital, St John's Wood, London.
Sources
B. E. ('C.') Butler, A Time to Speak (autobiography), 1972
Anne T. Flood, B. C. Butler's Developing Understanding of Church: an Intellectual Biography, 1981
Dom Daniel Rees (writing as 'Ceredig'), Bishop Christopher Butler, Seventh Abbot of Downside and Bishop of Nova Barbara, Downside, 1986
Valentine Rice, Dom Christopher Butler, the Abbot of Downside,
Notre Dame, Indiana, 1965
Tablet, 27 September 1986
The Times, 22 September 1986
personal knowledge
Asterisks in the text mark names of people whose biographies are in the Dictionary of National Biography.
---